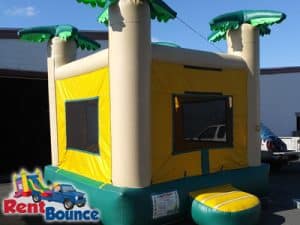 One of our most popular inflatable here at RentBounce.com, the medium Tropical Bounce holds 8 people up to 800 pounds. Designed with bright colors of green, yellow and tan, it is a favorite of kids and adults alike.
The medium Tropical Bounce measures roughly 13ft by 13ft and has mesh walls on all four sides so regardless of where you are standing you have a good view of the jumping area. Please click here for pricing and availability.
What a great way to combine fun along with a healthy, aerobic activity. And, all of our inflatables are manufactured with fire-resistant vinyl making them safer and more durable.
Pictures – Medium Tropical Bounce




Unit Dimensions
Length: 13′
Width: 13′
Height: 13'0″
Unit Information
Weight Capacity: up to 800 pounds
People Capacity: up to 8 people
Video – Medium Tropical Bounce House